Please note: At this time, all our classes are being held online, via Zoom.  
At CMHA Recovery College, our educational-based approach focuses on helping people recognize and develop their own resourcefulness and awareness in order to support themselves or their loved one's recovery journey. All of our courses are developed and delivered in partnership with our peer supporters who are experts by experience: they have their own story of a mental health or substance concern, or are supporting a loved one.
Everyone is welcome to attend our free courses. No previous experience is required and with a variety of courses to choose from, there is something for everyone.
Our CMHA Recovery College courses are interactive and create positive learning experiences, emphasizing connection, hope and belonging. An emphasis is placed on individual's talents and strengths. Our courses inspire optimism, encourage students to consider future opportunities, and more people towards personal empowerment. Recovery is a journey, not a destination.
You can find more information here: Frequently Asked Questions
If you have any further questions, do not hesitate to contact us at recoverycollege@cmha-edmonton.ab.ca. We look forward to connecting with  you.
We are proud to work with many community partners, including:
Bissell Centre, County of Strathcona FCSS, The Family Centre, L.Y. Cairns, REACH Edmonton, and Stony Plain FCSS.  If your community organization would like to partner with us, please contact recoverycollege@cmha-edmonton.ab.ca.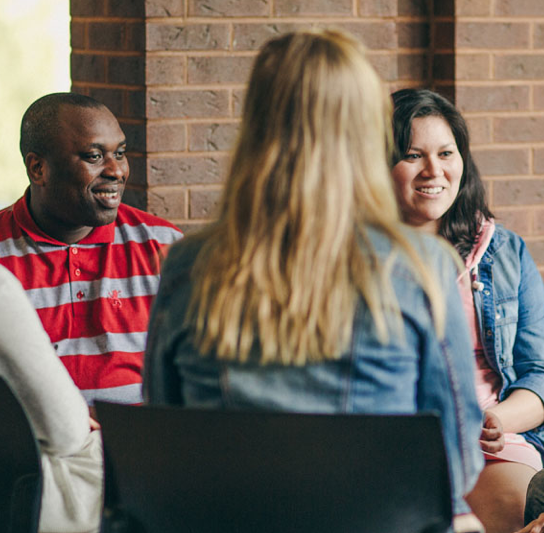 Popular Courses
Sign up for an upcoming course or get more information in our course catalogue.
Still have questions about our courses?
Our courses offer more structured learning experiences than many group programs. They're designed with input from qualified and experienced educators AND people with lived experience. Each course has clear learning outcomes and activities to explore and build knowledge. Peer Support is at the heart of everything we do, and we believe everyone in the room has valuable insight to share. We see everyone as a teacher and a learner at the same time, including our facilitators.
Nothing! All courses are free, but you must register before attending.
All of our courses are open to everyone at all levels and at all stages of recovery. All we require is an open mind, a willingness to participate and be respectful of the other learners in the room.
Our courses are friendly, informative, engaging and enjoyable to help learners on their recovery journey. Two trained facilitators run each course, one who has personal experience of recovery and will share their experience as part of the course, the other an expert by education.
CMHA Edmonton offers several drop-in classes to support wellness and recovery, which don't require registration, and are free of charge. To learn more, visit: Peer Support Services.
The majority of courses are held at CMHA Edmonton's offices at Transition Place, but we will also have classes in community venues across Edmonton. Locations for each course can be found in the course summary.
Anyone aged 16+ affected by mental health or substance use issues who wants to explore their recovery journey and their own wellness. Anyone who is supporting a family or friend with a mental illness or substance use issue, as well as people working in the mental health field are welcome to attend. No referral is needed.
Creating programs that are designed to empower
The Canadian Mental Health Association (CMHA), founded in 1918, is one of the oldest voluntary organizations in Canada. Each year, we provide direct service to more than 100,000 Canadians through the combined efforts of more than 10,000 volunteers and staff across Canada in over 120 communities.
As a nation-wide, voluntary organization, the Canadian Mental Health Association promotes the mental health of all and supports the resilience and recovery of people experiencing mental illness. The CMHA accomplishes this mission through advocacy, education, research and service.
Local CMHA offices across Canada provide a wide range of innovative services and supports to people who are experiencing mental illness and their families. These services are tailored to the needs and resources of the communities where they are based. One of the core goals of these services is to help people with mental illness develop the personal tools to lead meaningful and productive lives. CMHA Edmonton has been providing services in the Edmonton region since 1954.
For more info visit edmonton.cmha.ca/programs-services.